PROVIDING QUALITY VETERINARY EYE CARE AT A FAIR COST
TO GIVE YOUR LOVED ONES A BETTER LIFE
FAQ
Being a Loveland, CO veterinary provider specializing in animal eye care, we at the Animal Eye Center get a lot of frequently asked questions by our clients. Here are some answers to some of our most common questions about eye care for animals. If you have any questions that are not answered here, please contact us.
What forms of payment do you accept?
Payment is due at the time of service. We accept Cash, Check, Visa, Mastercard and Discover. Payment plans are also available through Care Credit and VetBilling. You may click the link above to be directed to a Care Credit application or to learn more about this service.
What occurs during an eye exam?
Special instruments are used to measure eye pressure, tear production, check the cornea and lens for disease, and determine the retinal health.
A cost estimate will be provided, and medical and surgical treatments will be explained before they are performed.
Appropriate medications will be dispensed or recommended and if necessary a prescription written.
Patient care instructions are provided to the owner and a report is sent to the regular veterinarian after each visit.
How do I know if my pet is in pain?
Many animals will exhibit eye pain by rubbing their face either with their paws or on things like furniture, grass, carpet and even you.
Occasionally they will seem to be depressed or lethargic and sleep much more than normal.
Some animals will squint or hold their eye closed if it is hurting them.
Another thing to look for is tear spillage on the fur around the affected eye(s).
What is a board certified veterinary ophthalmologist / ACVO diplomate?
"Board certified", indicates that a veterinarian has advanced education and training in a specific discipline of veterinary medicine and surgery. In the case of veterinary ophthalmology, this indicates that an individual is certified to meet the high standards of the ACVO (American College of Veterinary Ophthalmologists) and has been granted diplomat status in the organization.
ACVO diplomats are trained to accurately diagnose and treat eye diseases in dogs and other animals, screen animals for genetic eye diseases, offer breeding advice regarding actual or presumed genetic eye disorders, and offer micro-surgical options for the treatment of certain conditions.
How do I know if my pet needs an eye exam?
Thick discharge has been present on the eyelids for several days.
The eye(s) appears cloudy.
The white portion of the eye is bloodshot.
The animal's vision seems decreased.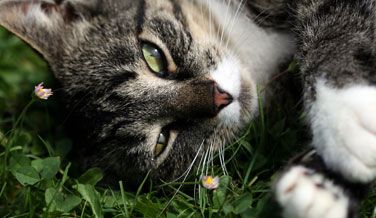 Our doctors will perform a complete eye examination on your pet with the assistance of our nurses. This includes examining the eye with a head set, hand lens, panophthalmoscope and slit lamp to aid in magnification of different parts of the eye.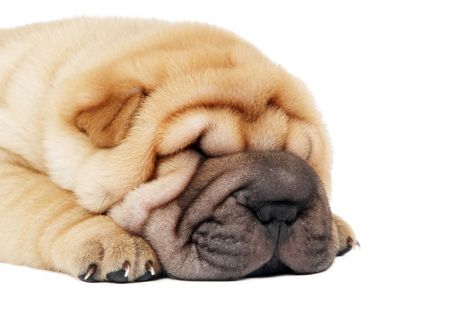 The purpose of the OFA Companion Animal Eye Registry (CAER) is to provide breeders with information regarding canine eye diseases so that they may make informed breeding decisions in order to produce healthier dogs.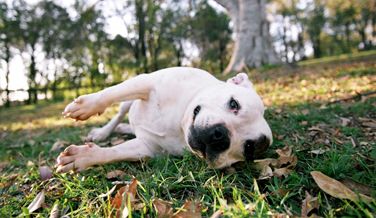 Learn more about any of the animal eye care services we offer and current availability.